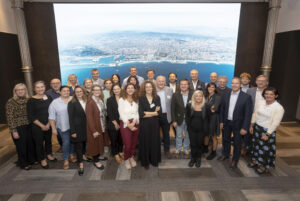 Global PR is Borderless
From brand development and campaign creation to strategy and execution, we deliver results that help make a difference to your bottom line.
Whatever the campaign or region or country, Ripple Effect Communications works with you to create tailored, localized messaging that resonates with your target audience and boosts your profile, while also supporting your overall business objectives.
We can manage all of your digital and traditional PR efforts across several continents under one umbrella to ensure that messaging and activities are delivered cohesively, and in line with your global communications strategy.
Ripple Effect Communications demonstrated participation in a sophisticated multi-country public relations strategy to bring global visibility to the energy harvesting wireless solutions of EnOcean and the EnOcean Alliance. Eurocom Worldwide, one of the world's top 5 PR networks, provided EnOcean with the ability to successfully reach their target audiences across North America, Europe, and Asia. Ripple Effect single-handedly managed all of EnOcean and the EnOcean Alliance's PR activities for the US and connected weekly with its Eurocom Worldwide partners to deliver global visibility and leadership.
"We were impressed with how fast and effective Eurocom Worldwide's team of agencies grasped our technology and how well they were able to optimize a global strategic approach to convey to the media and analysts the value EnOcean delivers," said Angelika Dester, EnOcean PR Manager.
For instance, within the first three months of hire, Ripple Effect Communications organized a media tour to introduce EnOcean's new CEO and their exciting news of becoming an ISO/IEC standard as well as simultaneously setting up 20+ interviews at one of EnOcean's more prominent industry tradeshows. In addition, Ripple Effect secured 14 feature stories including thought leadership features (or bylined articles) leading up to the tradeshow.